14 Jan

Grampians National Park and Why You Have to Go

The Grampians is without doubt and without hesitation one of my favourite places on the planet. It's a strong statement but once you experience it for yourself you really will understand.

I personally believe that camping is the greatest way to experience the magic and the magnitude of the mountains. You don't have to like, dig a hole in the ground, forage for you own food kinda camp. Staying at the campsite will suffice.

We stay at the Halls Gap Caravan Park. It's right in the middle of the spectacular rock formations and you wake up in the morning amazed at what you're amongst. The sites are riddled with families of kangaroos and you really do feel as though you're in a magnificent, wildlife wonderland.

If camping isn't your jam there are some incredible eco-lodges around as well as luxury bell tents and generic motels. There isn't a huge choice of food but you can't really get much better considering the location. My favourite is Livefast. It's in the little town centre and does a bit of everything including health foods, your standard eggs bene and delicious sandwiches, salads and fusion meals. It's not too expensive either, about $20-30 per person depending.

The main reason we make the 3 hour journey from Melbourne is for the walks. We've crossed off a fair few now however a few of my favourites are the shorter, more common walks.

They are:

The Balconies – this walk is very easy and achievable for all ages. You start at Reeds Lookout carpark and it'll feel like you're never going to get there and google maps has screwed you over big time but keep following, there will be signs. Reeds lookout is spectacular and you just feel so tiny amongst the incredible vast views of the Southern Grampians. Then follow the signs towards the Balconies, it'll probably take you about 30mins return, you'll know when you've arrived.

The Pinnacle – this walk starts and finishes at the Halls Gap Caravan Park (handy). It's pretty steep and can be a little challenging for some (me). I'm 25, fit and very able but I take a few breaks through this walk. This is in no way meant to discourage you from trying because it's well worth the trip. You can either take the same path back and it'll take you a few hours to do otherwise you can do a round trip past the wonderland car park and it'll take you a bit longer. Alternatively you can actually start and finish at the wonderland carpark to cut the whole journey in half.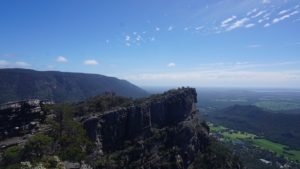 Mt William – I almost died on Mount William but look, I lived and now I'm here to tell you what not to do. This is the highest peak in the Grampians which I was wrongly pretty chill about. The carpark at the bottom is relatively sheltered but if you're doing this walk anytime that's not the midst of summer you need seriously warm clothes. I went up in leggings, runners and a hoodie and we saw people walking down in ski jackets and pants which we laughed about. But at the top, it was evident, the joke was on us. It was beautiful and boasts 360 degree views which aren't to be missed. Heck, even the drive to the carpark is amazing. Wear a jacket though.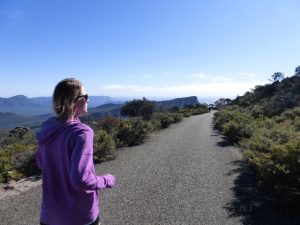 Chatauqua Peak – This too leaves from the Halls Gap Caravan Park. It's just a little further north which can be accessed by crossing the swing bridge and following the signs. This track is pretty gentle until right at the end which requires a little bit of rock climbing and navigation. It's not vertical rock climbing by any means but it's definitely a little tricky. Worth it for the gram!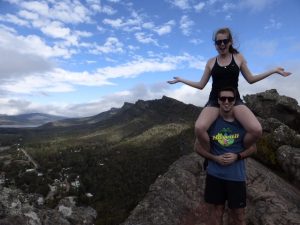 There really is nothing that compares to cooking up over the fire, sitting amongst the stars and exploring nature. I truly believe that there is something for everyone in the Grampians no matter what your skill or fitness level or your choice of accommodation. Pay it a visit and see it for yourself.
Kristy West – Lifestyle Author