26 Jul

Chronos: Make any watch a smart watch

Today we take a look at a new smart watch accessory from Chronos. We're talking Chronos the tech company, not the Greek god who had three heads and ate his own children, to be clear. The Chronos Wearable can turn any watch into a smart watch. From your Rolex Oyster Perpetual, to your Daniel Wellington, whatever your preference.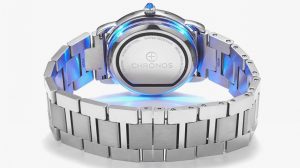 The Chronos wearable works through a non-magnetic, suction disc that attaches to the case-back of your watch. it can be removed at any time, and is non-abrasive, meaning you can change it up daily, through your weekly rotation. Once Chronos is connected, the user has access to notifications, GPS tracking and a wide array of other features. Chronos is also waterproof as well as being rechargeable, after the 72 hour power reserve is depleted.
The Chronos wearable is the ideal way to keep up with your fast paced, action packed life, whilst maintaining the sophistication of a classic timepiece. The Chronos Wearable is available now via preorder, for $69USD, which is half the expected RRP.
Check out Chronos here.