14 Dec

Kristy's Best Almond Butter Blondies

Eating well doesn't mean you can't have treats. It just means limiting the processed goods you are consuming. In this day and age we are so lucky to have access to so many delicious whole foods that there's no limit to the amount of treats and desserts we can make while also nourishing our bodies at the same time. In the words of the great Hannah Montana, you definitely can have the best of both worlds.

This blondie recipe I'm about to give you is no joke. It's so delicious that our household couldn't hold onto it for more than a day or two. The amount of almond butter I was purchasing almost sent me bankrupt.

So without further ado here they are…

Kristy's Best Almond Butter Blondies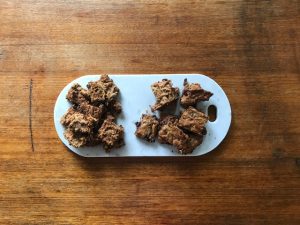 Ingredients:
1 large egg
1/2 cup of coconut sugar
1 cup almond butter (I usually use about one small jar)
1 teaspoon vanilla extract
1/2 Tbsp coconut oil
1 tsp baking powder
½ tsp pink Himalayan salt
1 tsp orange zest
½ cup choc chips
Method:
Preheat oven to 180.
Melt coconut oil in a small bowl (fill a sink with hot water and let the bowl sit in it until it has melted)
In a medium bowl whisk egg with a fork until frothy. Add melted coconut oil and mix through.
Add almond butter, vanilla extract and orange zest and mix through.
Add coconut sugar, baking powder, and salt. Mix through.
Add the chocolate chips and stir until combined.
Pour batter into a brownie pan (I prefer to line it with baking paper, it's easier to remove) and sprinkle some more coconut sugar on top.
Bake for 20 minutes until just browned and slightly crispy on top.
Allow the brownies to cool completely before slicing.
These are an absolute crowd-pleaser. They're so moist and delicious and that's really all I can say until you try them for yourself. Thank you and you're welcome.
Kristy West – Lifestyle Author