18 Dec

Why Newcastle Should Be Your Next Weekend Getaway

A Jetstar sale saw us heading over to NSW for a 3 day getaway. I'm waiting on Jetstar to get in touch one day and tell me I'm their most loyal customer (please comment below if you're reading). Upon booking the flights I wasn't really sure what to expect of the little surf town mostly because Sydney tends to be the first point of call. The main reason for our visit was the boyfriends birthday so we went in the middle of winter to escape Melbourne's depressing cold snaps. Due to this we were lucky to avoid any overcrowding.

We decided to stay in a little Air Bnb over in Fingal bay. This was the most beautiful stretch of coastline that is relatively understated. I imagine it's a lot more popular in the summer but I think It's still worth the visit no matter what time of year.

Ive compiled a few of my favorite parts that will hopefully help you decide how you'll spend your time in the area.

Mount Tomaree – this walk is beautiful. It's only about half an hour to the top but the view is incredible. The turquoise waters, the wavy coastlines and the pods of dolphins make for an absolutely breathtaking panorama.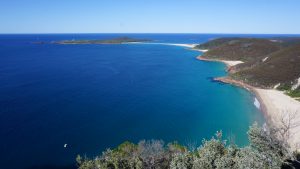 The Blue Door Kiosk – this little hole in the wall is good for more than just a beachside snack. The kiosk encourages the use of reusable mugs to stop disposable coffee cups from ending up in the ocean and in landfills. I adore cafes that make the effort to do their bit. I also love the coco whip because everyone loves a dairy free coconut soft serve – fact.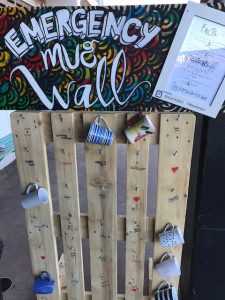 Merewether Surfhouse – the Merewether Surfhouse is absolutely a top choice for any meal. It sits right on the beach and the food is divine as well as reasonably priced. Just around the corner are the ocean pools which are well worth walking around to as well.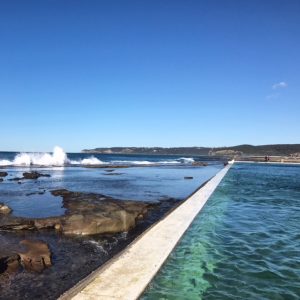 Birubi Beach Sand Dunes – on the way out to Fingal bay is Birubi beach where there are vast and what appears to be never ending sand dunes. They run camel rides and 4wd tours from the cafe end of the beach but it really is worth visiting just to feel small for a moment.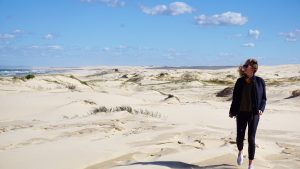 Whale watching from Nelson bay – it's probably one of the most expensive aspects of our trip but it was well worth the 68 dollars. Even though whales aren't guaranteed there's a pretty good chance you'll catch a glimpse if you go at the right time of year. We went during August which was the perfect season so I had high expectations. When we set off we cruised around for about 30 minutes and only saw a few blowhole sprays from a distance. Just when I thought our $68 got us an expensive ocean cruise, three whales popped up right next to our boat. Trip made and $68 justified.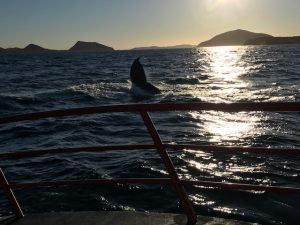 Surfing on One Mile – the reason for our weekend trip was for the boys to hit the beach but unfortunately the surf wasn't great on those three select days (standard). We went down to One Mile because it looked like our best bet. We were the only ones on the beach and the waves were big enough to have a bit of fun. We were lucky enough to borrow a couple of boards from our air bnb but there was a hire shop down there should you require it.
Even in the middle of winter the weather was a welcomed relief from the chill that Melbourne radiates. Shorts and a T-shirt were suffice but jackets for evenings or whale watching were essential.
Newcastle isn't a targeted destination for many but with flights as cheap as they are and considering it's away from the hustle and bustle of major cities i couldn't recommend this little slice of paradise any more.
Kristy West – Lifestyle Author